Advanced Technologies
Utilizing the latest dental techniques and technologies is just one more way the dedicated Kwon Dental team goes above and beyond to ensure our patients get the superior quality dentistry services they deserve. When we choose to incorporate a new dental technique or technology, we do so for one of three reasons – improved comfort, quality, or affordability of service. If you'd like to find out more about how dental technology is transforming your experience at our Dallas, TX dentistry practice, contact our team today.
Pain-Free Dentistry with Waterlase
Going to the dentist really can be a relaxing, anxiety-free experience -- as long as you choose one who takes advantage of state-of-the-art technology. Thanks to Waterlase, we are able to perform a number of procedures using a laser and water spray. It is a wonderful alternative to many traditional dental tools that may be associated with discomfort or unease, and in many cases it allows your dentist to ditch the shot and drill for comfortable, relaxing dental care. You'll love it!
Intraoral Photography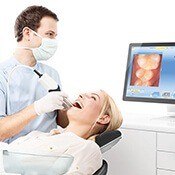 Many dental technologies don't directly affect patient experience in a noticeable way, but intraoral photography may be the most impactful technology for patient care. Rather than describing or explaining what we see, intraoral photography allows us to show patients their smiles from our perspective. This means patients have a better understanding of the issue, they become more active partners in treatment planning, and patients feel more confident in the options they choose to repair or improve their smiles. These images are captured using a small, pen-like, camera that can easily be positioned within the mouth and provides clear images of patients' dental structures.
Digital X-Rays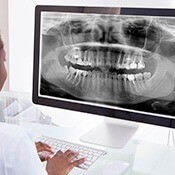 Intraoral photography has made it easy for our team to show patients the parts of their teeth above the gum line for better patient education and treatment planning, but what about the underlying dental structures? X-rays have been used for decades to give dentists and patients a better understanding of how the underlying supportive structures of teeth function, but they were difficult to capture, time consuming to develop, and were only viewable with a specialized light board. Digital x-rays are easier and safer to capture, exposing patients to significantly less radiation, and the high-definition images are immediately available on any computer for easy storage and transfer.
CT/Conebeam Scanner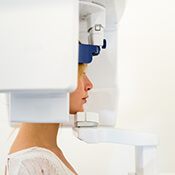 Digital x-rays give our team a picture of how the underlying dental structures in specific sections of the smile are working, but for more advanced treatments, we need to see the whole picture and how teeth fit together. That's where the CT/Conebeam scanner comes in. This system allows us to have a complete, panoramic image of the teeth and jaw and how they work together. More and more often, CT/Conebeam scans are being recommend as part of regular diagnostic care every three to five years, and in addition to this preventive maintenance, we may utilize these comprehensive images as part of the treatment planning process for Invisalign orthodontics, TMJ dysfunction therapy, and dental implant placement.
Digital Impression System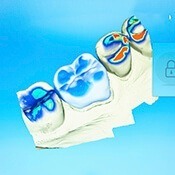 In the past, we captured physical impressions of patients' teeth by having them bite down on a putty-like substance. These impressions were used by our trusted dental lab technicians to create custom restorations. However, these impressions were not able to capture the smallest pits and grooves in patients' smiles and they took time to ship to our lab slowing the treatment process. That's why we utilize a digital impression system. Not only does this digital scan capture even the minutest crevices in teeth allowing for more precise restorations, digital impressions are available via computer right away so our dental lab can get started on the custom restoration sooner.
Soft Tissue Laser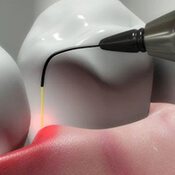 Traditional soft tissue procedures were performed using a scalpel to remove damaged tissue and stitches to reattach. With this traditional method, healing and recovery could take several weeks, and patients would experience a significant amount of discomfort. We introduced the BioLase soft tissue laser to our practice in order to complete a number of treatments with less bleeding and discomfort during treatment, significantly reduced healing time, and more effective results. Some treatments we may perform using our diode laser are scaling and root planing and cosmetic gum recontouring. Laser dentistry allows us to precisely remove only those parts of gum tissue necessary while simultaneously cauterizing the treatment area.
Sirona GALILEOS® 3D Imaging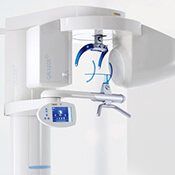 State-of-the-art technology can help doctors create truly stunning smiles for patients in need, and the GALILEOS® three-dimensional imaging system is no exception. In mere seconds, our Dallas team can scan the patient's entire mouth and jaw, creating a complete, high-resolution image that provides a wealth of important information about your oral health to Dr. Kwon. We can even sync up the findings with CEREC to create accurate, high-quality resolutions in just one visit, making the whole procedure even more streamlined and precise.