Remove Troublesome Teeth with Tooth Extractions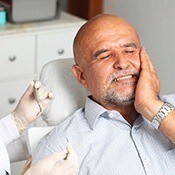 At Kwon Dental, we do our utmost to help patients repair damaged teeth to preserve natural dental structures. We offer a variety restorative options to renew oral health including root canal, crowns, inlays, and onlays. However, there are certain situations where extracting the tooth is actually the best way to preserve patients' oral health. We typically make the recommendation for tooth extractions if patients' oral health, bite alignment, or the health of surrounding or opposing teeth will be directly affected by the damaged tooth. Some of the most commonly extracted teeth include:
Primary teeth – if baby teeth do not fall out on their own, we may need to extract them to allow the permanent teeth to erupt.
Severe decay or damage – if decay effects too much of the tooth, we may be unable to preserve it with restorative care. This is especially important if decay or damage may adversely affect surrounding teeth.
Orthodontics – in preparation for orthodontic correction, we may need to remove one or more teeth to allow for easy movement throughout the course of treatment.
Tooth replacement – it may seem counter intuitive, but we often need to remove one or more teeth for patients with extensive tooth loss who are in need of partial or full dentures. We do this when remaining teeth are damage or severely weakened to ensure the longevity of any remaining dental structures as well as the denture.
Wisdom teeth – this third set of molars is the last to erupt in the gum line, and they are the most frequently extracted teeth.
Extraction is typically a fairly simple procedure. Most patients are completely comfortable with local anesthesia alone, but if you have a history of adverse reaction to surgical care or frequently experience dental anxiety, talk to Dr. Kwon about dental sedation options. Following extraction, we'll take time to explain how to care for your smile and prevent potential problems. If we extract teeth due to decay or damage, we will also take the time to explore tooth replacement solutions including dental implants, bridges, and partials.