CEREC One Visit Restorations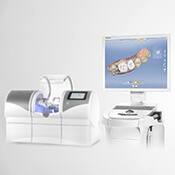 Traditionally, advanced restorations like dental crowns required patients to visit our team at least two times. During the initial visit, we would prepare teeth, capture bite impressions, and place a temporary restoration. When we received the final restoration, patients returned to exchange their temporary for a custom solution. With CEREC, we complete the full restoration process in just one appointment. Contact our team to find out more or schedule an appointment.
CEREC stands for chairside economical restoration of esthetic ceramics, but what that actually means is we're able to design, mill, and place restorations all from the comfort of our dental practice. CEREC is a computer assisted design and manufacture (CAD/CAM) system. Using digital scans of patients' smiles, we're able to precisely capture even the smallest crevices and grooves in teeth in order to make a more natural looking and feeling restoration. These digital dental impressions are sent to our chairside monitor where our dentists carefully design a custom restoration to fully restore patients' smiles. This design is then sent to an in-office milling unit that shapes a block of high-quality ceramic to perfectly match this custom design. The milling process varies in duration based on the size and complexity of the restoration, but typically, patients' restorations are crafted in under an hour. We can then place the crown, bridge, inlay, or onlay all in just one appointment.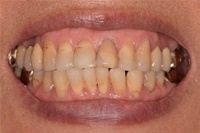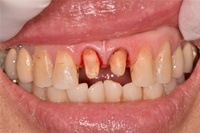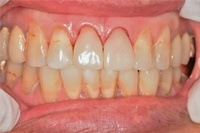 Patient has always been self-conscious about her anterior teeth and her smile. Due to frequent traveling, she was never able to get her crowns done. Patient always had a concern about waiting for a lab to finish her fabrications before she was traveling again. We were able to address her smile and get her anterior teeth looking great again in one day!