Emergency Dentistry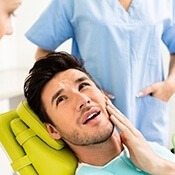 You may not be able to predict or prevent a dental emergency, but patients of Kwon Dental can always be prepared. We welcome patients experiencing dental emergency to contact us right away. Our dedicated team is here to help relive pain, restore damaged teeth, and put a smile back on our patients' faces. Some of the most common dental emergencies we treat in our Marsh Lane dental practice include:
Avulsed (knocked out), cracked, broken, or chipped teeth
Avulsed, cracked, broken, or chipped crowns, bridges, inlays, or onlays
Damaged partial or full dentures
Infected gums or other soft tissue damage
Severe toothache or sensitivity to changes in temperature that may be indicative of root canal infection
If you or a loved one experiences the above dental emergencies or any other situations that may require urgent attention, don't hesitate to call our office. If you're concerned your life is at risk or you have a more complex injury that may require Dr. Kwon to partner with local physicians, we encourage you to proceed to your nearest emergency room for assistance.