Failed Dental Implant Solutions in Dallas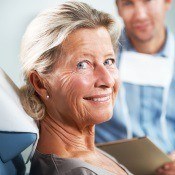 When you made the choice to replace your missing teeth with dental implants, you invested in your smile with a permanent solution. With over a 95% success rate, you never expected it to fail. Now that you have a broken dental implant, you may be a bit confused as to why it happened and what can be done to correct it. At Kwon Dental, we provide treatment for failed or broken dental implants in Dallas.
Causes of Dental Implant Failure
There are several reasons why you may experience late-term implant failure, but the most common causes are due to infection or bone loss. Pero-implantitis is an infection that develops around the implant and in the gum tissue. Most often, this is the result of poor oral hygiene after having it placed. Over time, it can lead to bone loss, causing you to experience a painful, loose implant.
In some cases, the implant post may fail to integrate into your jawbone. This often occurs when the procedure was performed on someone who had decreased bone density. However, it can also result from dental trauma after the implant was place, which can also lead to a broken implant.
Treatment for Dental Implant Failure
If you are suffering fromdental implant failure, you need immediate treatment. Dr. Hodong Kwon will evaluate the implant to find the cause of the problem for a solution that caters to your specific needs. In some cases, restoring the prosthetic is as simple as a thorough cleaning when peri-implantitis is present. The damaged tissue will be removed and the area will be thoroughly cleaned. If the issue is caught early and a proactive approach is taken, we can stop the condition from progressing. We will discuss additional oral hygiene methods to prevent the infection from reoccurring.
If your implant is broken due to stress, you may need a bone graft. This is a rather lengthy process because damaged tissue may need to be removed. By grafting the cells to the traumatized tissue, it will help the area stimulate new bone growth to restore the jawbone's ability to support the implant.
In some cases, the implant post may not be damaged, but instead the dental restoration. This most often is the result of trauma to the mouth or daily wear and tear from chewing. We provide implant restoration to quickly replace the damaged crown with a new one.
Preventing Dental Implant Failure
To ensure your dental implant continues to function as intended without any complications, it is important to maintain your dental hygiene. In addition to brushing and flossing, clean around the implants carefully and use an antibacterial mouthrinse. Visit your dentist every 6 months for a cleaning and checkup to prevent future problems.
Your Dentist for Implant Failure
Nothing is more frustrating or disappointing than having a dental implant failure. At Kwon Dental, we are here for you during this time with the treatment you need to restore your oral health. Contact our office today to schedule a consultation.