Dental Bridges & Partials Complete Smiles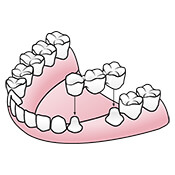 Adults experience tooth loss for a number reasons including periodontal disease, facial trauma, and severe tooth decay. Regardless of the cause of tooth loss, it's essential for patients to replace missing teeth as quickly as possible to protect oral health. If missing teeth are not replaced, a number of oral health concerns arise including diminished jawbone density, lost gum tissue volume, and shifting of surrounding teeth. Patients who are missing one or more teeth, but wish to retain their remaining healthy teeth may want to consider fixed bridges or partials. Contact our team to schedule a tooth replacement consultation or keep reading to find out more.
Dental Crown Supported Fixed Bridges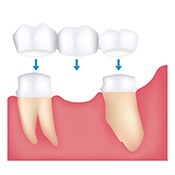 Bridges are designed to support replacement teeth for one to three consecutive missing teeth by attaching the prosthetics to healthy surrounding teeth using dental crowns. That may seem confusing at first, but think about an actual bridge. Most bridges are supported at least on either end by pillars or other supportive structures that stabilize the connection between streets, rivers, train tracks, etc. to the other side. Dental bridges work in this same way. Prosthetic teeth bridge the gap between remaining healthy structures, and are stabilized by dental crowns attached to healthy teeth on either side. In some cases, we may also recommend dental implant supported bridges.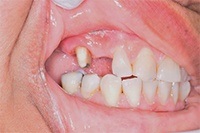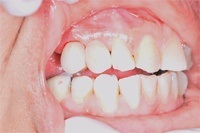 Partial Dentures
Partials fill gaps in patients' smiles, fitting between healthy teeth like a puzzle piece. These prosthetics are created by shaping a gum colored base to fill dental gaps. Replacement teeth are attached to this base to restore patients' smiles. They are held in place by metal clasps connected to remaining teeth.