Dental Implant Restorations in Dallas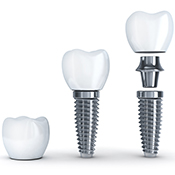 Dental implant restorations are not necessarily "new." Archaeologists have uncovered skeletal remains with primitive dental implants that are thousands of years old. What is new is the safe, predictable techniques used by dentists. At Kwon Dental, we make use of the highest-quality materials, and have advanced training and experience to perform the dental implant tooth replacement process safely and successfully. Over the course of the past decade, dental implant-retained tooth replacements have achieved 98% success, making them an increasingly viable option for a wider range of patients. To find out more about dental implants, contact our Dallas dental office to schedule a consultation or keep reading.
The Dental Implant Process
The dental implant process involves two main phases with a healing period between them. The first phase of the implant tooth replacement process is the surgical positioning of dental implant posts. These titanium posts resemble screws, and they fuse with the gums and bone tissue to mimic the function of tooth roots. The number and position of lost teeth effects the duration and method of implant placement, but typically, the surgical procedure itself remains the same. First, an incision is made in the soft tissue, and the gums are folded back. Then, the dental implant is placed, the gums are stitched back into position, and a protective covering is placed on top of the implantation site. Over the course of three to six months, the dental implant post fuses with the soft tissue and jawbone. Once this fusion, known as osseointegration, is complete, patients return to our office where we'll attach the restoration.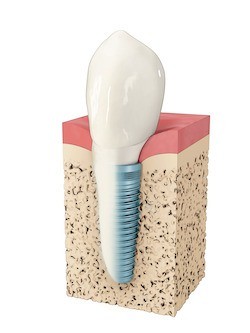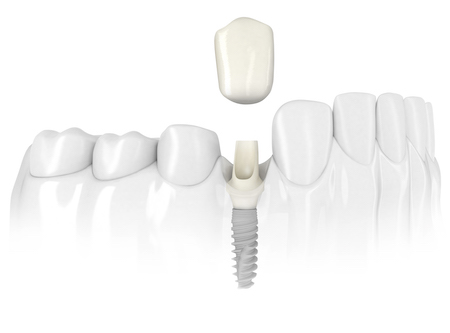 Types of Implant Supported Restorations
Dental implants are easily the most versatile tooth replacement solution. We're able to use one or more dental implant posts to restore lost root structure and provide optimal stability for even the most advanced dental restorations. Dental implant-retained tooth replacements may include:
Dental crowns – single missing teeth are replaced by attaching a custom dental crown to an implant post
Bridges – for two to four teeth in a row, we can craft a set of connected dental crowns known as bridges that can be supported by one or two implants depending on the number of teeth to be replaced
Partials & dentures – partial and full dentures restore smiles following extensive tooth loss, and are anchored to the minimal number of implant posts to provide maximum support
All-on-4 & teeth-in-a-day – as the names imply, All-on-4 dentures are full dentures supported by just four implants positioned to provide optimal stability, and teeth-in-a-day cases allow for the same day placement of a temporary denture