May 12, 2017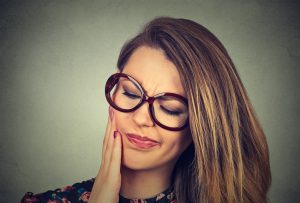 Enjoying your favorite ice cream treat at home quickly takes a turn for the worst when you feel that telltale twinge in your tooth. You've felt this sensation before, however it usually just happens once and goes away. This time is different though, every time you take a bite you're experiencing pain that lasts longer. The next thing you know your tooth wakes you up at night with a severe ache. These symptoms are the indicators of decay or an infection in your tooth, and your dentist in Northwest Dallas can help to preserve it.
What Causes an Infection in Your Tooth?
If your tooth is injured, fractured, or decay has reached the pulp, or nerve of your tooth, you will begin to feel pain. It often starts off as sensitivity to hot or cold foods or beverages, so don't ignore these signs. As it progresses the pain becomes more persistent and intense. If your tooth is infected, it's important to understand that the infection won't go away without treatment.
How is an Infected Tooth Treated?
Root canal therapy will remove the infected tissues of your tooth through a small access hole in the top. Once the infection is cleared out, Dr. Kwon will seal your tooth and allow it time to heal. Once the healing process is complete, he'll restore strength back to your tooth with a permanent filling or dental crown, which will also ensure longevity.
Does Root Canal Therapy Hurt?
At Kwon Dental your comfort is our top priority, and we take every measure to ensure that your root canal procedure is comfortable and efficient. Dr. Kwon is highly skilled and uses the best dental anesthetics to ensure that you don't feel anything during your treatment. In fact, anesthetics immediately relieve the pain of the infection right away, which helps you feel better.
For patients with anxiety or fear about their treatment, Dr. Kwon, your dentist in 75229, can speak with you about options for dental sedation during your procedure. We'll always take the time to ensure that you feel at ease about your treatment.
When You Have a Toothache Contact Kwon Dental Right Away
If your tooth becomes compromised and begins to show signs of an infection, it's important to act quickly. An infection left untreated will not go away; rather it will spread and become worse. It could even lead to tooth loss, so be sure to be proactive and give our office a call right away. We'll get you feeling comfortable again and back on the path to wellness in no time.
Comments Off

on Saving a Tooth: Information From Your Dentist in Northwest Dallas
No Comments
No comments yet.
RSS feed for comments on this post.
Sorry, the comment form is closed at this time.