May 22, 2017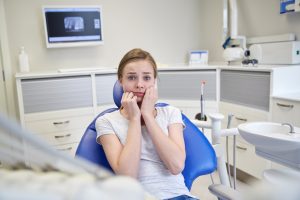 You pick up the phone and feel that familiar drop in your stomach. Even a phone call to the dentist's office can potentially send you into a panic. You know you need some treatment because your tooth hurts, but it's so hard to even schedule an appointment when you're paralyzed by fear. Don't lose hope! Your dentist in Northwest Dallas at Kwon Dental has solutions for you with dental sedation.
What is Dental Sedation?
Sedation is a great option that helps put patients at ease during dental procedures so they can receive the care they need. Dr. Kwon is extensively trained and can administer IV sedation, which delivers medication intravenously into your veins. Due to the nature of the medication, many patients feel as if they're sleeping. While you're actually still responsive, it's likely you'll have little to no memory of what went on during your treatment.
During IV sedation, Dr. Kwon and his team will closely monitor your vital signs and heart rate throughout your procedure. Because he's able to adjust the amount of medication as needed, you can rest assured that you'll always be comfortable throughout your treatment.
Before and After IV Sedation
There are a few steps Dr. Kwon will ask you to take when preparing for treatment with IV sedation such as:
Have a ride arranged to and from your appointment with a family member or friend who will wait for you during your procedure
Discontinue eating and drinking 8 hours prior to your procedure
Wear comfortable and loose fitting clothes
Plan to relax and rest for at least 24 hours after your treatment is completed
If you take a daily medication, you'll want to discuss with Dr. Kwon whether or not it will be necessary to suspend taking your medication prior to your treatment.
Recovery varies greatly with each patient. You should plan on drinking lots of fluids and resting for at least 24 hours after your procedure. It's also helpful to have an adult stay with you for the remainder of the day after treatment. We will provide you with clear postoperative instructions to ensure a smooth recovery.
Who is a Candidate for IV Sedation?
Besides patients who feel anxiety or fear about visiting the dentist, sedation can also benefit patients with other concerns such as:
Special needs
A sensitive gag reflex
Difficulties sitting for long periods of time
Multiple or complex procedures they want to complete at one time
Contact Kwon Dental to Learn More About Dental Sedation
Would you like to learn more about how dental sedation can help you? Contact your dentist in 75229 today to schedule a consultation.
Comments Off

on Before, During, and After Sedation With Your Dentist in Northwest Dallas
No Comments
No comments yet.
RSS feed for comments on this post.
Sorry, the comment form is closed at this time.