July 27, 2017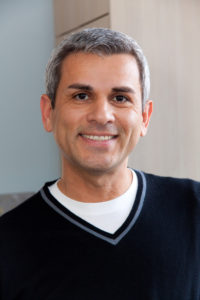 One of the most common complaints we hear from denture wearers is that their prosthetic teeth are loose or uncomfortable. They're stressed about laughing in public, they've got a painful blister on their gums, or they just can't eat all the foods they love. Does that sound a little too familiar? If so, we've got great news. There's now a better solution for full arch replacement: it's All-on-4 in Dallas! Learn more about this revolutionary implant method from Dr. Ho Dong Kwon below.
What Is All-on-4?
From Nobel Biocare, All-on-4 is an implant solution for people who are edentulous, or those who have lost all of their teeth in the upper or lower jaw. It's a method of stabilizing a complete denture on as few as four implant posts; five or six implants may be used for added stability in some cases. Also called Teeth In a Day, your All-on-4 dental implants can be restored within 24 hours following implantation.
One thing that makes All-on-4 unique is that it can secure a new or existing denture. And thanks to the strategic placement which draws maximum support from the jawbone, patients who have not been eligible for dental implants because they needed cost-prohibitive bone grafting procedures first can usually still benefit from All-on-4.
All-on-4 vs. Traditional Dentures
There are numerous benefits of choosing an implant-retained prosthetic vs. traditional dentures. With the addition of several prosthetic tooth roots, your jawbone will receive the stimulation it needs to remain healthier than if only the visible portion of the teeth were replaced (i.e. what happens with traditional dentures).
Because a traditional denture rests on the gums, many people struggle with oral sores or uncomfortable blisters, especially right at first. All-on-4 from your dentist in Dallas allows your denture to snap onto the implants instead — taking the pressure off your gums. And you won't ever have to worry about using a messy or ineffective denture cream to hold the denture in place.
Are You a Candidate for All-on-4?
If you are missing all the teeth in your upper or lower jaw, no matter how long they have been missing, it's worth it to check into whether or not you can benefit from All-on-4. Because the All-on-4 method for dental implants can eliminate the need for preparatory bone grafting procedures, many patients who were not previously eligible for dental implants find they can benefit from this treatment. Patients should be healthy enough to undergo and recover from a surgical procedure — diseases affecting the immune system may affect your eligibility for implant dentistry.
Get Ready for Dental Implants in Dallas
The only way to confirm or deny your eligibility for dental implants is to schedule an appointment with your implant dentist, Dr. Kwon. We will evaluate your oral health and determine which option would suit you best. Request an appointment online today!
Comments Off

on Forget Loose, Uncomfortable Dentures with All-on-4 in Dallas
No Comments
No comments yet.
RSS feed for comments on this post.
Sorry, the comment form is closed at this time.