July 27, 2017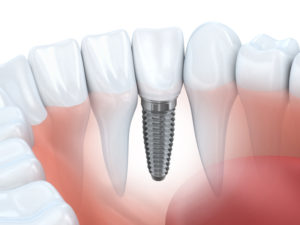 If you've lost teeth and are eligible for dental implants, you can't go wrong choosing this comprehensive solution to tooth loss. Dental implants are as much as 98% successful — and we love those odds. But there are rare instances when dental implants can fail. Keep reading to learn why implants may not be successful, and what you can do about it if implant failure happens to you from Dr. Ho Dong Kwong, your trusted dentist in Dallas.
Why Do Dental Implants Fail?
The most common reason for dental implant failure is a condition known as peri-implantitis. It's an infection that develops around the implant post, eating away at the healthy bone tissue and causing the implant to loosen. Peri-implantitis is caused by poor hygiene, or an infection that is contracted during the implantation process.
People who smoke or use tobacco are also reducing the chances of implant success. The habit inhibits the body's ability to heal, making it harder for the jawbone to properly grow around the dental implant posts.
Periodontal (gum) disease can also cause the bone and gum tissue loss that results in the failure of dental implants.
What Should I Do About a Loose Implant?
If you notice one of your dental implants becoming loose, contact your dental implant dentist right away. It's likely that we will need to intervene — but even if everything is ok, your dentist still needs to know about what's going on with your dental implants.
In the meantime, here's what you can do about a loose dental implant:
Don't wiggle or move it; doing so can cause further bone or tissue loss.

Avoid biting down on that dental implant if you can.

Rinse your mouth out with saltwater to soothe the area and prevent infection.

Take an over-the-counter pain medication to reduce any discomfort.
How Can I Prevent Dental Implant Failure?
The best way to ensure you enjoy a successful dental implant procedure is to maintain excellent oral and overall health and hygiene. Avoid tobacco and eat a nutritious, balanced diet for optimal wellbeing. Continue to care for your successful dental implants by staying on top of your good oral health habits, including brushing your teeth for two minutes, twice a day, and flossing daily. Use an interdental cleaner or water flosser to concentrate on the area around your dental implant.
Your implant dentist will provide you with specific instructions on caring for your dental implants; make sure you follow them closely. Attend all follow-up visits as recommended, and don't hesitate to get in touch with your dentist if you ever suspect there's an issue with your dental implant!
Questions About a Dental Implant in Dallas?
Dr. Kwon is the dental implant dentist DFW trusts. If you have questions about an upcoming or recent procedure, please don't hesitate to get in touch with Kwon Dental! In fact, you can go ahead and request an appointment online today.
Comments Off

on Dentist in Dallas Answers What Happens When an Implant Fails
No Comments
No comments yet.
RSS feed for comments on this post.
Sorry, the comment form is closed at this time.