October 3, 2017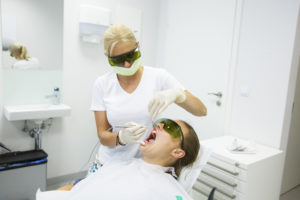 When you think of lasers, you probably imagine your favorite science fiction show, but today, lasers are used in a variety of ordinary activities. From lasers that read blu-rays to laser levels on construction sites, lasers are helpful everyday tools.  In the dental field, lasers allow dentists to perform a wide range of treatments with less pain and faster healing. Soft tissue lasers are especially beneficial for treating the sensitive gums and other oral soft tissues. Keep reading to find out more about how soft tissue lasers can improve dental care.

1 – They Can be Used to Reduce Bacteria
For patients who struggle with tooth decay and those who are at increased risk for gum disease, we may use a soft tissue laser to reduce the amounts of bacteria in the mouth. Oral bacteria are a healthy, natural part of the digestive system and aid in overall bodily function, but oral bacteria also produce a waste byproduct called plaque. Plaque buildup on teeth can cause numerous oral health issues, so reducing bacteria levels improves oral health.
2 – They Can be Used to Treat Gum Disease
If you do suffer from gum disease, soft tissue lasers can be used to perform deep cleaning therapies. Scaling is the removal of plaque and tartar from the gums and teeth below the gum line. This procedure is typically completed using metal scraping tools and scalpels, but we can perform this treatment using lasers which is faster, more comfortable and causes less bleeding.
3 – They Can Treat Cold Sores
Cold sores and canker sores can be painful and unsightly. Medications and other treatments will repair soft tissue over the course of weeks. Soft tissue lasers can immediately relieve cold and canker sore pain and remove the unsightly mark.
4 – They Improve Healing Ability
Following traditional gum tissue therapies using scalpels and sutures, it could take weeks for a patient to fully heal. Soft tissue lasers cauterize throughout the treatment, so patients don't need to receive stitches and chances of infection are significantly decreased.
Meet Dr. Kwon
At the Dallas dental office of Hodong Kwon, DDS, we are dedicated to staying at the forefront of dental technology. We use soft tissue lasers in our office to reduce patient discomfort, improve the healing process, and prevent infection. If you want to learn more about lasers, other advanced dentistry technologies, or the services we provide at Kwon Dental, come back regularly to read our blog. You can also contact our friendly dentistry team to schedule an appointment.
Comments Off

on 4 Things Patients Should Know About Soft Tissue Lasers
No Comments
No comments yet.
RSS feed for comments on this post.
Sorry, the comment form is closed at this time.