November 22, 2017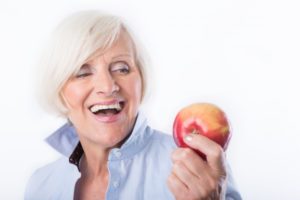 Millions of people suffer from tooth loss. If you are among them, you know how difficult it can be to enjoy a balanced diet and articulate your speech. Dentures don't always solve these problems because they may slip in your mouth or not provide the bite strength that you need. Fortunately, you don't have to just put up with your incomplete smile. All-on-4 implant-supported dentures in northwest Dallas could be the sturdy, permanent solution that you've been looking for.
What Are Implant-Supported Dentures?
Dental implants are small titanium posts that a qualified professional surgically places into your jawbone. During the months after the surgery, your body bonds with the implants in a process known as osseointegration. Basically, your bone adopts the implants, which begin to act like natural tooth roots. When the implants and your jaw are ready, your dentist will attach your artificial teeth.
One of the marvels of dental implants is that they can replace one tooth, a few teeth, or all your teeth. With All-on-4 implant-supported dentures, only four titanium posts are used to support an entire arch of teeth — either your upper arch or lower arch. This is better than the traditional method of placing implants because it requires less healing time. See? You're already that much closer to having a new smile.
What Are the Advantages of Implant-Supported Dentures?
Implant-supported dentures offer a number of advantages that make them superior to their traditional counterparts, including:
The implants won't slip around in your mouth, and they can stand up to even the crunchiest apple or the juiciest stake.
Low maintenance requirements. It's very important that you take care of your implants in order to prevent infections. However, as long as you have good oral hygiene habits, this shouldn't be an issue for you. Unlike with old-fashioned dentures, there is nothing for you to take out of your mouth and clean.
When you have missing teeth, your jaw may change shape over time, leading to problems with the way your dentures fit. That should never be a problem with implant-supported dentures.
Regular dentures are a bit on the fragile side; one false move, and you could accidentally break them. Implants are in your mouth all the time—no more "oopses!"
Bone benefits. Because implants act like tooth roots, they may prevent the bone loss that often accompanies missing teeth.
Are Implant-Supported Dentures Right for You?
Before you can begin your journey to a restored smile, you'll need to chat with your dentist to find out if you are a good candidate for dental implants. If you have good oral and overall health, and your jaw is nice and strong, it is likely that you'll be able to undergo this life-changing procedure.
You may not have to put up with your frustrating old dentures —implants could give you the strong and gorgeous smile that you've been missing!
About the Dentist
Dr. Hodong Kwon is proud to serve the community in northwest Dallas. He has undergone extensive training in order to be your local expert on dental implants. If you have questions about how you can be the happy owner of a restored smile, please contact our office at 214-350-8608.
Comments Off

on Implant-Supported Dentures Can Make You Love Your Smile Again!
No Comments
No comments yet.
RSS feed for comments on this post.
Sorry, the comment form is closed at this time.