February 15, 2018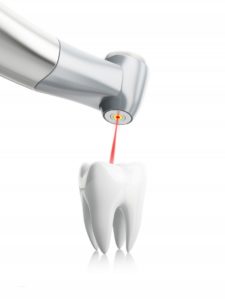 Every year new technology comes out to make your overall dental experience more effective and more comfortable. One of these technologies is laser dentistry. With the help of dental lasers, your dentist in Northwest Dallas can provide you with a treatment that's more precise and less time-consuming than using traditional dental tools. Whether it's removing decay from a cavity or if you just hate receiving shots, Waterlase can benefit you!
The difference between this laser and other forms of laser dentistry is Waterlase makes use of water to perform your treatment. Today, we'll be discussing how Waterlase works and what benefits you can expect during your next treatment.
How Does Waterlase Treatment Work?
Just like other laser technology, Waterlase creates a highly concentrated beam of light energy and sends it through an optical fiber to its handpiece. This handpiece allows your dentist in Northwest Dallas to aim the laser at the exact spot where treatment is needed.
In addition to this laser is a gentle spray of water designed to keep the treatment area well hydrated. It uses patented technology known as Hydrophotonics to perform several different treatments, such as:
Cavity preparation
Caries removal
Hard tissue surface roughening and etching
Excavation of pits and fissures for sealant placement
A Virtually Painless Alternative
No more worrying about the drill or rough dental tools used by your typical dentist. You also likely won't need to have anesthetics injected to have treatment done. Waterlase allows your dentist to perform the same treatments they would normally, without rough dental tools.
Less Time Spent in the Dental Chair
Typically, cavity preparation takes multiple visits to complete, but Waterlase is gentle enough to get the job done in a single visit. That means you won't need to schedule multiple visits to have deep cleaning performed.
A Safer and More Precise Treatment
Waterlase is totally safe for both adult and pediatric patients. As long as all participants in the room wear safety goggles to shield their eyes from the bright laser, you can get your treatments done in confidence.
Furthermore, Waterlase is more precise than traditional dental methods, so your dentist in Northwest Dallas can reduce the risk of heat, pain, and microscopic cracks usually caused by dental drills. By removing a very precise amount of tooth, you'll also reduce your risk of infections underneath your needed filling.
Reduces the Risk of Cross-Contamination
During cavity or gum treatments, it's possible for cross-contamination in the mouth to occur. Waterlase's system uses single-use, disposable tips, so there's no worry of bacteria from another patient's mouth encountering your own.
With the Waterlase system, you'll have a safer, more effective, and overall more comfortable treatment. Schedule an appointment with your dentist today to experience the difference yourself during your deep cleaning!
About the Author
Dr. Hodong Kwon earned his Doctor of Dental Surgery degree from the State University of New York at Buffalo School of Dental Medicine. He regular participates in continuing education to learn about the most advanced dental techniques and technologies available. This allows him to bring them to his patients and create a better overall dental experience. To learn more about his advanced technologies and dental practice, contact him at (214) 350-8608 or visit his website.
Comments Off

on How Waterlase Technology Helps Your Dentist in Northwest Dallas
No Comments
No comments yet.
RSS feed for comments on this post.
Sorry, the comment form is closed at this time.