March 3, 2018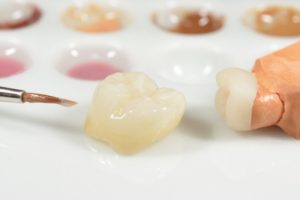 Dental crowns are very beneficial to the world of dentistry. They protect our existing teeth from infections and help us improve our smile's appearance, but if you've gotten dental crowns before, then you know the process of receiving them can take several days or even weeks! This is because dentists typically use offsite dental labs that produce the crowns for them. Now, your dentist can provide same day crowns in Northwest Dallas today!
What are Dental Crowns?
For those who don't have them, dental crowns are fixed prosthetic devices that are cemented onto existing teeth or dental implants. They're incredibly helpful to dentists and patients alike because they work to salvage remaining teeth, rather than force a patient to settle for a tooth extraction. While their uses are numerous, dental crowns aren't always readily available when they're needed.
The traditional process of making a dental crown involves taking a mold of the patient's mouth, sending that mold to a dental lab, then waiting for the lab to create the restoration. This can take a long time because a dental lab will usually service many dentists in the area. However, with same day crowns in Northwest Dallas, your dentist can skip that process entirely.
How Do Same Day Crowns Work?
In the past, getting a dental crown required two visits; one to create an impression and another to place the crown. Thanks to CEREC technology, which stands for chairside economical restoration of esthetic ceramics, your dentist can use digital scanning technology to better measure your mouth and place your crown in a single visit. That means no more using that gross putty material to get impressions.
The Benefits of Same Day Dental Crowns
The digital scanning is completed through CAD/CAM technology, helping your dentist capture a more precise image of your mouth. Sometimes physical impressions can miss the tiny crevices and grooves in teeth, but digital scanning allows your dentist to create crowns that fit more naturally, without compromising on quality.
Don't expect to wait several hours while your restoration is being milled. While it can depend on the complexity of your replacement tooth, a single restoration takes just under an hour to complete. Keep in mind that CEREC isn't exclusively used for dental crowns either. You can also get bridges, onlays, or inlays produced by the same machine.
When purchasing a high-quality CEREC crown, you can expect to pay considerably more than a traditional crown. You'll want to keep in mind that you won't need to pay for an additional visit like you would for traditional crowns and you'll be receiving a crown that fits your tooth very well. This will improve the lifespan of the crown, making the investment more worthwhile.
Don't hesitate to get a crown if you need one.  Schedule an appointment with your dentist today to learn more!
About the Author
Dr. Hodong Kwon earned his Doctor of Dental Surgery degree from the State University of New York at Buffalo School of Dental Medicine. After graduating, he completed his Advanced Education in General Dentistry residency, which allowed him to pursue additional training in cosmetic and implant dentistry. To learn more about same day crowns and his practice, contact him at (214) 350-8608 or visit his website.
Comments Off

on Learn the Benefits of Same Day Crowns in Northwest Dallas Today!
No Comments
No comments yet.
RSS feed for comments on this post.
Sorry, the comment form is closed at this time.