April 6, 2018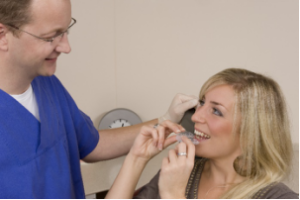 Unfortunately, not everyone is born with naturally straight teeth. If you are among those who have gapped, overcrowded, or rotated teeth, you have probably considered braces in the past; however, brackets and wires do not appeal to you. Now, you have many different orthodontic solutions available, including Invisalign. Your cosmetic dentist in North Dallas can help you get the straight smile that you have always wanted with this nearly invisible option.

What Is Invisalign?
Invisalign does not use brackets and wires to move your teeth. Instead, custom-made aligners are worn over them to gradually move them into position. They are clear to provide a discreet and sophisticated treatment. In addition, they are also removable. As a result, there are no dietary restrictions, and your oral hygiene routine will remain unchanged. In about one year, your treatment will be complete.
With Invisalign, you will benefit from a refined and convenient option to get the smile of your dreams. It is the perfect choice for busy adults who do not have the time for various dental appointments. Since no wires are used, you will not need to visit your dentist for adjustments. Frequent checkins are needed every few weeks to monitor the movement of your teeth.
Can Invisalign be Covered by Insurance?
Many insurances will help cover the cost of Invisalign. You will need to review your dental policy to see how much your insurance will pay. To cover any remaining out-of-pocket expenses, there are financing plans and various payment options available.
How Long Does the Treatment Last?
For most patients, they are finished with their series of aligners in about 12 months; however, each case is different. To ensure that your progression remains on track, it is best to change your aligners every 2 weeks and follow your dentist's recommendations.
What Happens If My Aligner Breaks?
Although the aligners are durable, they can still break. If a crack or break develops a couple of days before moving on to the next aligner in your series, it is often not a concern. If it happens at the beginning of the week, it is best to call your dentist for a replacement.
Will I Need a Retainer After the Treatment?
To prevent your teeth from moving back into their previous positions, you will briefly require a retainer after you have finished your Invisalign treatment.
How Can I Get Started?
If you are ready to start your journey to a straight smile, it is time to see if Invisalign is right for you. Contact your dentist today to schedule a consultation.
About Dr. Hodong Kwon
Dr. Hodong Kwon has committed most of his life to helping patients achieve healthy, beautiful smiles. He offers the latest advancements in dentistry to provide customized solutions for his patients. In addition to general dentistry, he also has cosmetic services to improve how your teeth look. If you are interested in Invisalign, Kwon Dental can help. Contact our office today to schedule your consultation for clear aligners.
Comments Off

on Cosmetic Dentist in North Dallas Answers Invisalign FAQs
No Comments
No comments yet.
RSS feed for comments on this post.
Sorry, the comment form is closed at this time.