April 26, 2018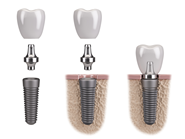 Your options to replace your missing teeth have diversified over the last several years. While bridges, partials, and dentures were often used, many are turning to an alternative solution with dental implants. Offering over a 95% success rate and the next best thing to your natural teeth, you can make a true investment in your oral health and quality of life. Before you are ready to commit to the treatment, you are concerned about the cost of dental implants in Marsh Lane. To help you understand how much you can expect to pay, there are several factors to consider.

How Much Will I Pay?
There is no set price tag to how much you will pay for dental implants because the cost is based on several factors, such as:
How many teeth are being replaced
The materials used
Additional procedures
Anesthesia and sedation
Specialists
Dental insurance
What is Included in the Cost of the Procedure?
To begin the process, you will require a consultation that will involve imaging equipment to ensure that you are a candidate for the procedure. On average, an x-ray costs about $100 while a CT scan costs about $200. This will help your dentist access the health of your jawbone and where to place the implant posts.
It is not uncommon to need additional procedures prior to having your implant posts placed. If you need bone grafting to increase your jawbone's density, the average price is about $1,100. If you need teeth extracted, the cost can range from $75 to $600.
The first phase of the treatment involves surgically placing the implant posts into your jawbone. A single implant can cost about $1,000 to $3,000. If multiple teeth need to be replaced, each tooth will not require an implant post. Instead, an average of 2 to 6 will be used depending on how many teeth you are missing.
It will take several months for your jawbone to fuse to the implant post. After it has healed, you will have an abutment attached to the post. The cost of each abutment can range from $500 to $3,000. It will take a couple of weeks for your gum tissue to heal after having them placed.
The final process involves the restoration. If you are missing a single tooth, a dental crown will be used. If multiple teeth need to be replaced, a bridge or partial denture will be needed, which can cost about $3,000. To treat complete tooth loss, a full denture will be used, which can cost about $6,000.
Complete Your Smile Today
Do not let the cost of the procedure deter you from replacing your missing teeth. There are several factors that can help to lower the amount you can expect to pay, like your dental insurance. To receive an estimate for your new smile, contact your dentist to schedule a consultation.
About Dr. Hodong Kwon
Dr. Hodong Kwon is committed to helping his patients achieve healthy, beautiful smiles. If you are suffering from tooth loss, he can replace your missing teeth with dental implants. Contact Kwon Dental today to see if you are a candidate for the procedure.
Comments Off

on Discover the Cost of Dental Implants in Marsh Lane
No Comments
No comments yet.
RSS feed for comments on this post.
Sorry, the comment form is closed at this time.