June 3, 2018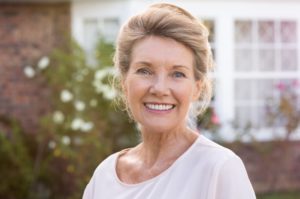 While it isn't as common, some patients have so many dental problems that they simply don't know where to start. Multiple teeth with decay and discoloration can make them uncomfortable to show their smile. Missing teeth forces them to make permanent changes to their diet. Luckily, it doesn't always have to be this way. With the help of dental implants in North Dallas, you can achieve what your dentist calls a full mouth reconstruction.
To learn more about the process and the many solutions to tooth loss, keep reading.
What is Full Mouth Reconstruction?
Full mouth reconstructions are similar to smile makeovers, except they tend to go a step further. Smile makeovers tend to have a more cosmetic angle to them, but full mouth reconstructions include replacing and restoring the health and function of your teeth, not just their appearance. While their appearances can also be improved, the main priority is getting your mouth's functions back to normal.
Today, we'll be discussing three of the main methods your dentist does this through dental implants.
Single-Tooth Implants
When you only have a single tooth missing, your dentist will only need to place a single implant. This is a titanium post designed to integrate with your existing bone and gum tissue. To have it placed, you'll need:
Adequate bone density and gum tissue volume
Good oral health
To discontinue all use of tobacco products
To precisely plan your placement, a 3D cone beam scanner takes a 360-degree image of your mouth. Once you arrive for surgery, the dentist will make a small incision in your gum tissue and place the implant, followed by a protective healing cap. Depending on where it's placed, the implant will take three to six months to heal. Afterwards, you'll come back to have the implant-retained crown placed on top.
Dental Bridges
For patients trying to replace multiple missing teeth, consider implant-retained dental bridges. You can replace up to three teeth at a time by attaching prosthetics to healthy adjacent teeth. The implant will sit in between the two prosthetics, which are placed on top of your existing teeth, effectively creating the "bridge" and restoring your smile for less money. As a bonus, bridges supported with implants are sturdier and more natural than traditional bridges.
All-on-4 Implants
For patients who wear full dentures or who are missing an entire arch, All-on-4 combines the benefits of implants and dentures. To do this, a custom-made arch is developed to fit on top of four strategically- placed implants. This carries multiple benefits, including:
Savings on implants
Bone stimulation
Regaining your everyday oral functions
Proper blood flow
A sturdier solution to tooth replacement
To learn more about the many solutions of tooth replacement through dental implants in North Dallas, schedule a consultation with your dentist today!
About the Author
Dr. Hodong Kwon earned his Doctor of Dental Surgery degree from the State University of New York Buffalo School of Dental Medicine. He went on to complete his Advanced Education in General Dentistry residency to learn cosmetic and implant training. To learn more about his practice, contact him through his website.
Comments Off

on Get Dental Implants in North Dallas Three Different Ways!
No Comments
No comments yet.
RSS feed for comments on this post.
Sorry, the comment form is closed at this time.