September 15, 2018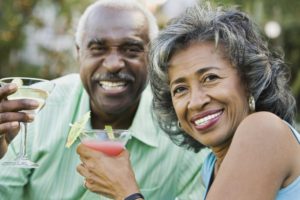 Losing a tooth can be devastating as it affects many aspects of your life. It becomes more challenging to enjoy the foods you would normally eat when it is uncomfortable or difficult to chew your food. Not to mention the embarrassment you might be feeling about the appearance of your smile. You've heard about dental implants, but you wonder how you can fit them into your budget? Here's what you need to know about the cost of dental implants.
What is a Dental Implant?
When you are looking at the big picture and considering the cost of dental implants, it is important to understand what an implant is and how it benefits both your smile and your oral health.
A dental implant replaces your lost tooth root with a titanium post that is biocompatible and designed to integrate naturally with your jawbone. This not only creates a firm and stable foundation for your new tooth, but also helps to keep your jawbone healthy by protecting from the deterioration that occurs when a natural root is lost.
The crown is the portion of the implant that you see, so it is designed to closely mimic your lost tooth providing both the function and aesthetics of your natural tooth. This means that you will be able to eat, chew, smile, brush, and floss again with ease.
How Much do Dental Implants Cost?
Dental implants are capable of replacing one single missing tooth or multiple teeth by supporting dental prosthetics like a bridge, partial, or denture. Because every patient's situation is unique, there is no set cost of a dental implant since each case will vary by complexity and the types of restorations needed. Therefore, the best way to determine exactly what the cost of your treatment will be is to schedule a consultation with your dentist.
Something to consider when thinking about dental implants vs other tooth replacement options is that even though implants may pose a high cost up front, they are more cost effective in the long run since they have the potential to last for a lifetime. Other replacement options will have to be replaced in 10 to 15 years.
Another factor to consider is the provider you choose to work with. Many dentists are able to provide comprehensive implant dentistry from start to finish in their own office , which saves you the added cost of working with an oral surgeon for implant placement.
If you'd like to learn more about your options, give your dentist in Dallas a call today to schedule your consultation.
About the Author
Dr. Hodong Kwon offers comprehensive dentistry to patients in Dallas, TX in a relaxed and comfortable setting. He is well-equipped to guide you through implant dentistry from start to finish, working with the team you know and trust the entire time.
If you would like to contact Kwon Dental, please call us at 214-350-8608 or reach us through our website.
Comments Off

on Determining the Cost of Dental Implants
No Comments
No comments yet.
RSS feed for comments on this post.
Sorry, the comment form is closed at this time.