November 8, 2018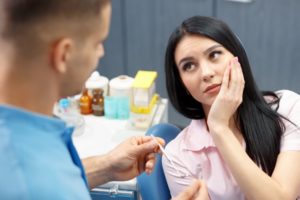 Have you ever experienced tooth pain seemingly out of nowhere? Perhaps you went to eat a sweet food or hot cup of soup and felt sensitivity or sharp pain in your jaw afterwards? No one likes to be met with tooth pain, regardless of how it occurs. However, it's not something you have to live with. There are numerous treatments you can take advantage of to save your existing tooth, including a same-day crown!
To learn which treatment may work best for you, keep reading!
How Tooth Decay Develops
Tooth decay never appears suddenly; it always slowly develops over time. By the time you start feeling tooth pain, you've already missed your chance to prevent much of the damage that's already occurred. When you eat foods high in sugar or starch, oral bacteria consumes leftover particles and releases plaque acid as a byproduct. This colorless substance sticks to all the surfaces of the mouth, including the teeth and gums. Without removal, it will start breaking down enamel until there is no tooth left.
This is why regular brushing and flossing is so important to your oral health. Without it, there's nothing to stop oral bacteria and plaque from wreaking havoc on your teeth and gums. Once decay has set in, there are ways you can restore your remaining tooth structure.
Dental Crowns
Dental crowns are designed to protect significantly damaged teeth, whether it be from decay or injury. They are typically made from ceramic or metal materials which both have their own unique benefits. If your tooth is too damaged for a dental filling but still salvageable, a dental crown will most likely be used. Crowns can also be made to create a bridge, which are typically used if the tooth is so far gone that it requires extraction. Dentists will always consider other options first before resorting to an extraction, but in some cases, it may be necessary to protect your remaining teeth.
With same-day crowns, you don't have to wait weeks just to have a restoration placed. There's no impression material required, no reduction in quality compared to a lab-made crown, and no need to wear a temporary crown.
Root Canals
If the decay has spread deeper into the tooth and reached the pulp, root canal therapy is required to clean the area and fill it with a biocompatible substance known as gutta percha. This works to replace the infected pulp and prevent future infections from occurring. After filling, the area is sealed with a crown on top.
Dental Bonding
Dental bonding uses the same material in fillings to fix small cracks and chips inside teeth caused by decay. This tooth-colored material is ideal for cosmetic purposes, but can also be used for restorative treatments.
Don't lose hope just yet. Restorative treatments give your decayed tooth a second chance, but you'll need to visit a dentist to make it a reality!
About the Author
Dr. Hodong Kwon earned his DDS degree from the State University of New York at Buffalo School of Dental Medicine. He's able to perform many methods that help individuals restore their damaged teeth. To learn more about his treatments, you can contact him through his website.
Comments Off

on When Decay Develops, A Same-Day Crown Can Save Your Tooth!
No Comments
No comments yet.
RSS feed for comments on this post.
Sorry, the comment form is closed at this time.