March 27, 2019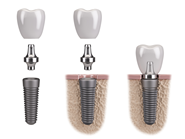 Lots of people want to know why dental implants are a better approach to smile restoration for many patients. Part of the reason has to do with the materials from which implants are made. Implant makers use aircraft-grade titanium for the fixtures and medical-grade ceramics for the restored teeth. The benefits for the patient include lasting freedom from the problem of tooth loss.
Titanium: Strong Yet Lightweight
Aircraft manufacturers have some of the most challenging jobs on earth. The planes they build must not only be comfortable and efficient, they must stand up to wind speeds in excess of 600 miles per hour. They must do this while carrying passengers across the country and around the globe.
As you can imagine, these companies spare no expense when it comes to the materials they employ. For the wings, they use high-grade titanium that's incredibly strong yet remarkably lightweight. It's also resistant to corrosion. In fact, plants that process salty sea water use titanium in key components because it's essentially rustproof.
These same qualities – strength, light weight, and corrosion resistance – are why medical manufacturers chose titanium for the fixtures at the heart of every implant. It was the natural choice.
Porcelain Ceramics: Brilliant and Beautiful
Porcelain ceramics have come a long, long way in the past few years. They've long been used for dental purposes. But, in the past, they weren't quite strong enough to serve as the material of choice for restored teeth.
That's no longer the case, thanks to improved technology. In fact, porcelain ceramics are the materials from which the visible portion of every implant is made. The result is a look that's indistinguishable from healthy natural teeth, while still being strong enough to last a lifetime with reasonable care.
What We Mean by "Reasonable Care"
Because dental implants are not living tissue, they're invulnerable to the bacteria that causes tooth decay and gum disease. This doesn't mean that implant wearers can neglect their oral hygiene, however. The remaining natural teeth will still need regular brushing and flossing. The implants themselves need daily cleaning as well; your dentist will probably recommend a nonabrasive brand of toothpaste.
Your implants are only as strong as the bones in your jaw. Your bones, like the rest of your body, are alive. They need nutrients in the form of protein, calcium, healthy fats, complex carbohydrates, vitamins, and minerals. Failing to eat a sensible diet may cause implant failure.
Anything that harms your overall health can potentially affect your implants. This includes all forms of tobacco, along with vaping products. You should consume alcohol only in moderation or avoid it altogether.
Physical inactivity can lead to serious conditions such as diabetes and heart disease. It's important to get regular exercise in accord with your doctor's guidance.
The Final Word on the Subject
Now you know why we say that dental implants are made from the best stuff on earth. Talk to your dentist about implants and other restorative treatments during your next appointment. You'll soon have plenty of reason to smile.
About the Author
Dr. Hodong Kwon is an implant-trained dentist who earned his doctorate in dental surgery from the State University of New York at Buffalo. He combines professional expertise with a kind and caring approach that makes him a hit with his patients. You can reach his office online or by calling (214) 350-8608.
Comments Off

on Dental Implants: Made from the Best Stuff on Earth
No Comments
No comments yet.
RSS feed for comments on this post.
Sorry, the comment form is closed at this time.